The fasting diet is built around a seven-day cycle where you eat normally for five of those days. On the other two, you reduce your calorie intake to a quarter of what you would normally eat. In order for this intermittent weight loss plan to work, the two fasting days you choose must not be back-to-back.
In other words, on an average week, you can choose to fast on Monday and Thursday or Tuesday and Friday. It does not matter which two days you pick, and they can change in each seven-day cycle (although most prefer to keep the same 2 days per week to keep it consistent). The key is to stick to the fasting part of reducing your daily calories on those two days.
The calorie count is essential for the fasting days to be successful. For men, the regular calorie total on 'normal' non-fasting days should be 2,400. On the two fasting days, it would be reduced to ¼ of this or no more than 600 calories. For women, those numbers would be 2,000 for a normal day and 500 calories for the two different fasting days.
Is This The Best Vegan Diet Weight Loss Plan?
As vegans do not eat meat and have added alternate protein sources to their daily menu, the intermittent diet can be an easy diet plan for vegans to transition to. It is actually considered a simple vegan diet to lose weight fast. This is because fruit and vegetables are staples for many when on the 5:2 meal plan, and can also make up a large part of a vegan diet.
What makes intermittent dieting a sensible choice for vegans is that it works on the principle of when you eat and what you eat. With so many nutritious meal plans available, it is easy to eat well and feel satisfied even on fasting days because of the eating schedule.
What A Typical 5:2 Vegan Weight Loss Meal Plan Looks Like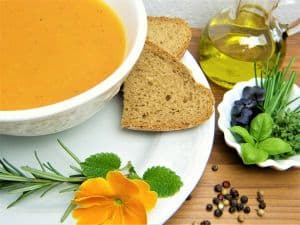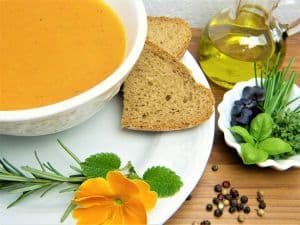 Let's be honest here… Thinking about eating no more than 500 or 600 calories a day on a fasting day does not sound like a lot of food. But once you start to look at the options available to you, including snack ideas, it quickly becomes clear that you are just sacrificing calories and not taste on fasting days.
A general guideline to follow when splitting your calories over three meals on fasting days may include a breakfast of fewer than 100 calories. Lunch can total up to 200 calories as can dinner. Depending on your main meals, you should have up to 100 calories left over for healthy snacks. Black coffee, tea, and water help to fill you along the way.
See below for vegan 5:2 diet meal plan ideas you can use.
How The Vegan Intermittent Fasting Meal Plan Works
Aside from reducing your calorie intake for two days out of seven, the 5:2 diet teaches us that we can eat better and lose weight. Our diets have changed over the past few decades to include a lot of processed foods. We also turn to high calorie, fatty foods frequently as well in order to feel full.
The 5:2 fasting diet plan shows us through careful food choices that it is possible to lose weight and keep it off by changing how and what we eat. Even on fasting days, you should not feel as if you are starving. It is a lifestyle change you will want to keep using just to maintain your healthy weight as well.
Special Considerations To Keep In Mind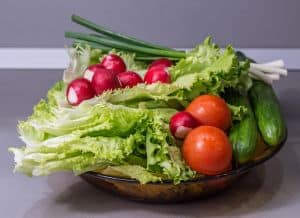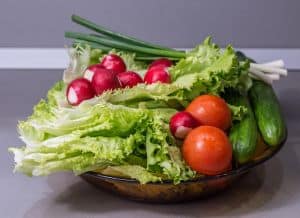 The simple vegan meal plan for weight loss is not for everyone. For example, diabetics, pregnant women, and individuals with a history of eating disorders should talk to their doctor before starting the 5:2 diet.
Also, for anyone else that is keen to lose some weight fast, before starting any kind of diet it is also a good idea to seek the advice of your family doctor to determine that it will not cause problems with any pre-existing condition.
For best results when using the vegan 5:2 diet meal plan, you should pre-plan your meals in advance. Also, adding even light exercise to your daily routine can help you to lose weight faster.
Finally, in order for the fasting diet plan to be successful, it is best that you commit and stick to it for a period of time in order to see results. This is why we have set up a 4-week beginner's challenge. While it is not specifically for vegans, the tips, advice, reminders, and motivation that you receive during the 4 weeks can make all the difference between the diet being a success and you struggling and not seeing the results you desire. For more information, click here.
5:2 Diet-Friendly Vegan Meal Plan
Here is a 5:2 diet meal plan for vegans that comes in at 498 calories for the day…
Breakfast
Mixed Berry Chia Seed Pudding – Serves 2 @ 81 calories each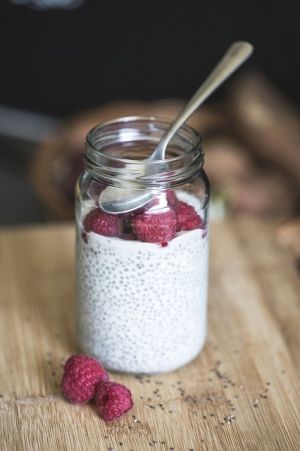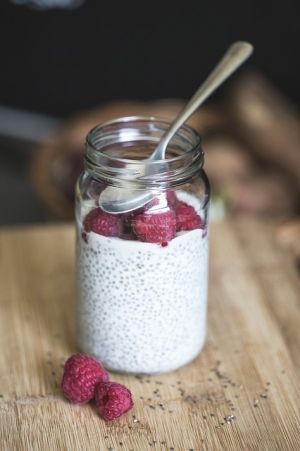 Ingredients:
1 cup unsweetened almond milk (eg. Almond Breeze) (30 calories)

¾ cup frozen mixed berries (raspberries, blackberries, blueberries) (60 calories)

1 tbsp chia seeds (60 calories)

Cinnamon / nutmeg to serve (6 calories)
Method:
Combine the almond milk with the chia seeds and fruit into a jar with a lid. Shake well, and set aside for 15 minutes. Give it another good shake for 2 mins then refrigerate for 5-6 hours or overnight.

Divide evenly into 2 bowls, and sprinkle some nutmeg or cinnamon on top, then serve.
Calories: Total = 162 calories or 81 calories per serving
Servings: 2
Morning Tea Snack
Breakfast Oatmeal Cupcakes to Go – Serves 24 @ 100 calories each
Ingredients:
5 cups rolled oats (1500 calories)

2 ½ cups mashed overripe banana (501 calories)

1 tsp salt

5 tbsp stevia

2 ⅓ cups (550 ml) water

3 tbsp vegetable oil (360 calories)

2 ½ tsp vanilla extract (30 calories)
Optional extras: cinnamon, cocoa nibs, chopped walnuts, shredded coconut, berries, ground flax, dried fruit, wheat germ, etc. *
* (extra nuts, fruit, coconut, etc will increase the calories per serve)
Method:
Preheat your oven to 190ºC / 375ºF.

Line 24 x cupcake tins with parchment paper or baking cups

Combine and stir all the dry ingredients in a large mixing bowl.

Combine and stir all wet ingredients (including the banana) in a separate bowl.

Combine and stir the wet and dry mixtures. Pour into the lined cupcake tins and bake for 21 minutes.

These oatmeal cupcakes can be enjoyed straight away, or you can freeze and reheat them for a breakfast or snack when on the go, or on your fasting day.
Calories: Total = 2391 calories or 100 calories per serving
Servings: 24
* (Optional extras will increase the calories per serve.)
Drink
Chai Tea Latte – Serves 4 @ 10 calories each

Ingredients:
1 cinnamon stick

1 tsp ground cardamom (6 calories)

8 whole cloves

Fresh ginger, peeled and grated (0.5″/1.25 cm for a mild cup, 1″/2.5 cm for a spicier cup) (2 calories)

3 cups (710 ml) water

1 cup (240 ml) almond milk (30 calories)

2 black tea bags

4 squirts of liquid stevia

to taste
Method:
Coarsely grate the ginger

In a saucepan, add 3 cups of water, the cinnamon, cardamom, cloves and ginger and, stirring occasionally, bring to the boil. Reduce heat and simmer for about 5 minutes. Remove from the heat and set aside to steep for 15 minutes.

Return to spice mixture from step #2 to the heat and bring to the boil. Add the tea bags, stir and remove from the heat. Brew for about 4-6 minutes (adjust brewing time depending on how strong you like your tea).

Strain the tea mixture through a fine sieve and then return to strained tea the saucepan.

Add the stevia

and almond milk, and then heat on the stove top just long enough to heat through.

Serve and enjoy!
Calories: Total = 38 calories or 10 calories per serving
Servings: 4
Lunch
Moroccan Casserole served with Couscous – Serves 4 @ 175 calories each
Ingredients:
1 tsp crushed cumin seeds (8 calories)

1 tsp crushed coriander seeds (5 calories)

400 grams (14 oz) can tomatoes (127 calories)

300 ml / 1 ¼ cups water

2 leeks, sliced (108 calories)

2 medium zucchinis (courgettes), sliced (66 calories)

2 peeled, sliced carrots (41 calories)

½ a 400 grams can chickpeas, drained (160 calories)

1 tsp turmeric (8 calories)

Salt and black pepper

50 grams couscous (177 calories)

Coriander, as garnish
Method:
Preheat oven to

180°C / 355°F.

To a preheated solid-based pan, add the cumin and coriander seeds, and cook/stir for about 20-30 secs (be careful not to burn the seeds. Heat until you can smell the spice fragrances).

To the same pan, add the tomatoes and water, and bring to the boil. Then add the leeks, zucchinis/courgettes, carrots, chickpeas, turmeric and salt/pepper.

Transfer the entire mixture to a covered casserole dish or tagine. Cook in the oven at

180°C / 355°F

for about 1 hour (or until the vegetables are soft).

Add the couscous to a separate bowl. Add 75 ml / ⅓ cup of boiling water and stir well. Leave it to stand for approx. 5 mins, until the couscous has softened. Stir the couscous to separate and fluff it up.

Garnish the casserole with the coriander, and serve together with the couscous.
Calories: Total = 700 calories or 175 calories per serving
Servings: 4
Drink
Lemon Iced Tea – Serves 8 @ 4 calories each
Ingredients:
8 cups (1895 ml) water = 0

4-5 orange pekoe tea bags = 0

¾ cup stevia

= 0

½ cup (120 ml) lemon juice = 31
Method:
In a large saucepan, boil the water. Remove from the heat and drop the tea bags (minus the tags) into the saucepan. Cover and let stand for about 1 hour.

Remove the tea bags, and in a large jug or pitcher, combine the steeped tea mixture and the sweetener. Stir until it has all dissolved, then stir in lemon juice.

Refrigerate until the tea has chilled, and serve.
Calories: Total = 31 calories or 8 calories per serving
Servings: 8
Dinner
Ratatouille – Serves 6 @ 128 calories each
Ingredients:
2 tbsp extra-virgin

olive oil

(240 calories)

2 medium onions, roughly chopped (97 calories)

2 red capsicums/peppers, seeded and diced (60 calories)

4 garlic cloves, minced (18 calories)

1 ½ tsp crushed fennel seeds (10 calories)

1 eggplant, medium, diced (88 calories)

2 zucchinis/courgettes, large, diced (110 calories)

6 ripe tomatoes, roughly chopped (133 calories)

¼ cup fresh basil, finely chopped (2 calories)

2 tbsp fresh thyme, finely chopped (5 calories)

2 tbsp fresh parsley, finely chopped (3 calories)

Salt & pepper to taste
Method:
Preheat oven to 180°C / 355°F

Over medium heat, add some of the oil to a casserole dish or a cast iron Dutch oven. Add the onions and capsicums/peppers. Cook until the vegetables begin to brown, stirring occasionally. Add the fennel seeds and garlic, and cook for a further 1-2 mins. Transfer this to a large bowl.

Add some more of the oil to the same pot. Add the eggplant and cook until browned in places, stirring frequently. Transfer to the same bowl with the vegetables from step #1.

Add the remaining oil to the same pot. Add the zucchinis/courgettes and cook until browned in places, stirring frequently. Add tomatoes, basil, thyme and the vegetables from steps #1 & #2 and bring to a simmer. Cover and transfer to the preheated oven.

Bake the ratatouille until the vegetables are tender, stirring occasionally (for 35 to 45 minutes). Season to taste with pepper and salt.
Note: You can serve this dish hot or enjoy it once it has cooled to room temperature. Garnish with the chopped parsley before serving.
Calories: Total = 766 calories or 128 calories per serving
Servings: 6
Total calories for this Vegan 5:2 Diet Meal Plan, which includes 3 meals, a snack and 2 drinks:
Breakfast = 81 calories
Morning Tea Snack = 100 calories; Drink = 10 calories
Lunch = 175 calories; Drink = 4 calories
Dinner = 128 calories
Total calories for the day = 498 calories
Of course, this is just an estimate of the calories, as there are many things that can vary, including portion sizes, different brand ingredients, etc. But this should give you a guide as to how you can create a satisfying and healthy vegan meal plan for when you are on the 5:2 fasting diet. For more help when on the 5:2 diet plan, including meals ideas and inspiration, please check this out.