The 5:2 diet is an intermittent eating plan. The mechanics of this specific program come from not so much what you eat, but how many calories you consume.
The basic format is that you eat whatever you normally do for five out of seven days; however, it is best to try to eat reasonably healthily on non-fasting days. On the other two days in that cycle, you cut your calorie intake to 25% of the amount you consumed on the other "normal" days.
The trick here is that on your fasting days, you space them apart so that they are not two days in a row. So, for men, a normal day would be 2,400 calories per day and on intermittent fasting days that drops to 600 calories. The numbers are different for women who can eat up to 2,000 calories per day with fasting days dropping down to 500 calories.
Does The Diet Plan For 500 Calories A Day Work?
That depends. Provided you are dedicated and stick to the plan you should see results, and for many people, the results are noticeable fairly quickly.
To have the best chance of success with this diet plan, it's important to not undo your good work on non-fasting days. So although you can eat what you like, you shouldn't overindulge and eat excessive high-calorie, high-fat foods. Eating healthy, nutrient-rich foods, whether on fasting days or not, is best. And combine this with some exercise, and you will be setting yourself up for success.
>> Exercise articles that you might be interested in:
What makes the 500 calorie a day diet popular is its flexibility. The popularity of the eating plan has started a whole new industry of recipes designed specifically to keep within the fasting day calorie limits. So there are many meal options and plans for your 5:2 fasting days.
The 5:2 Diet Plan Health Benefits
Although detractors tend to focus on the negatives, nutritionists point to several positives that do come from the 5:2 diet program.
For example, blood glucose levels are reduced, bad LDL cholesterol levels drop as well. Plus, the program has proven to reduce the risk of certain age-related health issues including diabetes, heart disease, some cancers and Alzheimer's.
We have already talked about the health benefits of the fasting diet plan. Click here for more information.
Plan Your 5:2 Fasting Diet Days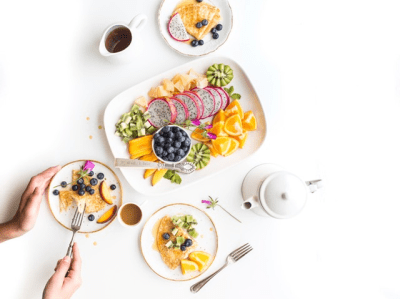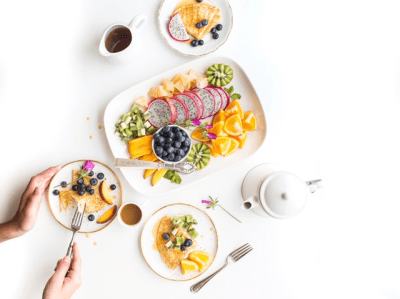 What makes this eating program successful is having a 500 calorie diet plan menu or meal plan. You can break your meals up in various ways. Meals can be:
three main meals (breakfast, lunch, dinner) only,
three main meals and a small snack to fight the cravings,
or it can be two main meals and a number of small snacks.
Everyone is different, so a little experimentation is good. But it is important to have your 500 calorie fasting day meals planned so that you have the right food in the cupboards and fridge, and so that you do not get tempted if / when the cravings kick in.
The key with this 500 calories diet plan for weight loss is that whatever format your fasting day menu takes, it must not exceed required calories.
It's also best to do the plan on two non-consecutive days per week. The days you choose for fasting are as flexible as the menu. You could fast on Monday and Wednesday, Tuesday or Thursday… It's up to you.
For more tips on the best days of the week to fast, click here.
Can You Actually Eat Anything You Want?
As is the case with any kind of weight-loss program, success comes from eating nutritious meals. Technically, you can eat whatever you want, as long as you stay under the 500/600 calories. However, use your common sense… Is it better to eat 500 calories worth of food sourced from nutritious fruit, vegetables, grains, lean meat, etc, or 500 calories from donuts, chips, and other processed food?
If you are going to give it a go, do it properly and don't consume loads of empty calories; but rather eat a range of fresh healthy food.
The 500 calorie diet meal plan is far from boring. With the addition of a good selection of 5:2 diet recipes, you will be amazed at what delicious foods and meals you will be able to enjoy as you shed unwanted weight.

Before You Start The 500 Calorie Diet Weight Loss Program
Remember that if you have any concerns, you should consult with your family doctor or a medical professional before you begin any kind of weight loss program.
If you are already on the plan or wondering what a typical daily 500 calorie diet meal plan looks like, we have a meal plan below that you may wish to consider.
Meal Plan For A 500 Calorie A Day Diet
Since quite a few people have some trouble imagining what a 500 calorie 5:2 meal plan looks like, we have prepared one below that you may want to have a look at.
So what does 500 calories a day look like?
Below we have broken a 500 calorie day down into 3 main meals, totaling 498 calories.
Breakfast
Mexican Scramble – 152 calories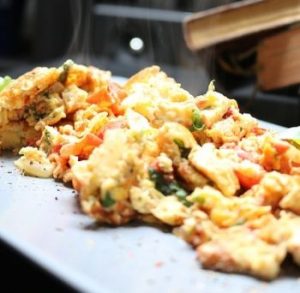 Ingredients:
¼ cup onion, finely chopped (17 calories)
¼ cup tomato, roughly chopped (8 calories)
⅛ cup chopped peppers (any color) (5 calories)
⅛ tsp dried or fresh basil
1 tsp of Mexican seasoning or Chilli spice (8 calories)
1 egg, small (54 calories)
1 tbsp water
2 tbsps shredded 75% reduced/low-fat cheddar cheese (60 calories)
Method:
In a small non-stick frying pan, lightly coat with cooking spray, add onion, cook and stir until tender over medium heat.
Add the spice, as well as the tomato and basil, and cook for 1-2 more minutes.
Whisk the egg and water in a small bowl. Then add the egg mix to the pan with the tomato, basil, and onion. Cook and stir gently until the egg is completely cooked through.
Remove the pan from the heat. Lightly sprinkle over with cheese, and serve.
Calories: 152
Servings: 1
Lunch
Bruschetta with Warm Tomatoes – Serves 4 @ 136 calories each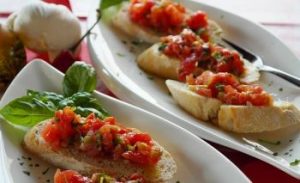 Ingredients:
2½ cups cherry tomatoes (67 calories)
3 tbsps fresh basil, thinly sliced (2 calories)
2 tbsps shallots, finely chopped (14 calories)
2 tsps olive oil (79 calories)
¼ tsp sea salt
⅛ tsp black pepper, freshly ground (1 calorie)
¼ tsp balsamic vinegar (1 calorie)
1 clove garlic, minced (4 calories)
Cooking spray
4 thin slices of gluten-free French bread (370 calories)
1 clove garlic, halved (4 calories)
Method:
Combine the tomatoes, basil, shallots, olive oil, salt, pepper, balsamic vinegar, and minced garlic and if you have time let stand 30 mins or so, so the flavors can infuse.
Over medium heat, heat a medium non-stick frypan. Thinly coat the pan with cooking spray. Add the mixture from step 1, and cook 5-10 minutes, stirring occasionally, until heated through thoroughly and the tomatoes have broken down a little. Remove from the heat.
If you have a grill pan, heat over medium-high heat. Coat the pan lightly with cooking spray. Add the bread and cook for a minute or 2 on each side or until toasted. If you don't have a grill pan, then just toast the bread.
Rub 1 of the sides of each slice of toast with the halves of the garlic clove. Serve the tomato mixture over garlic-rubbed toast.
Note: Heating the tomatoes intensifies their sweetness while preserving their bright, fresh flavor.
Calories: Total = 542 calories or 136 calories per serving
Servings: 4
Dinner
Sweet Potato and Chilli Soup – Serves 4 @ 210 calories each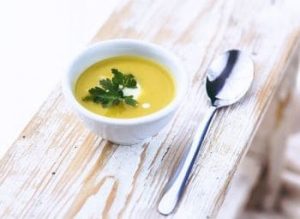 Ingredients:
1 tbsp vegetable oil (120 calories)
1 finely chopped medium onion (48 calories)
1 tbsp Chipotle / chilli paste (6 calories)
1 cube of vegetable stock (5 calories)
1.3L (5.5 cups) of boiling water (0 calories)
750g / 1.6lb sweet potatoes, peeled and cut into fine chunks or grated (645 calories)
Half/low-fat crème fraîche (15 calories)
Coriander/chives leaves
Method:
Heat the oil and fry off the onion until just soft, for about 4-5 mins, in a large saucepan. Add the paste and cook for 1 minute more.
In a separate container, add the boiling water and dissolve the stock cube. Then add to the pan, along with the sweet potato.
Bring back to the boil, then simmer for about 10 minutes, until the sweet potato is soft.
Puree the mixture with a stick blender until nice and smooth.
Ladle the soup mixture into serving bowls and add a dollop of crème fraîche, as well as a scattering of fresh coriander leaves and some chopped chives to garnish.
Calories: Total = 839 calories or 210 calories per serving
Servings: 4
Total calories for the 3 meals:
Breakfast = 152 calories
Lunch = 136 calories
Dinner = 210 calories
Total calories for the day = 498 calories
Remember, guys, that you are lucky and are allowed to bump your calorie intake for fasting days up to 600 calories, so you can have an extra snack or 2 to get you through the day.
And if you need extra help, or just some ideas, tips and motivation, then make sure you check out our fasting guide – click below for more details…