Here's a great quick soup that is away from the normal creamed soups like red pepper or leak. Why don't you try cauliflower soup?
Cauliflower has some great nutritional benefits, sometimes being called the world's greatest food.
It has tons of vitamin C, B6, fiber and more!
Enjoy this on a cooler day for a nice warm-up meal!
1 serving @ 233 calories
Ingredients: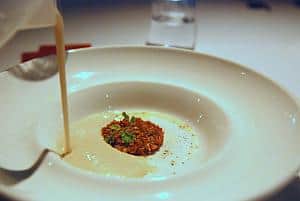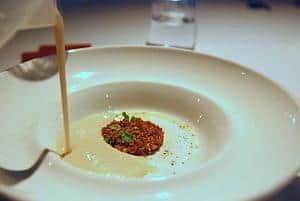 1 small cauliflower, about 200g (approx 1.5 cups) (50 calories)
½ tsp olive oil (20 calories)
½ leek, chopped, about 80g (49 calories)
1 garlic clove (4 calories)
500ml / 2 cup low-salt vegetable stock (63 calories)
125ml / ½ cup skimmed milk (47 calories)
black pepper to taste (0 calories)
Method:
Split cauliflower into small florets, cutting away from the central stork.
Heat oil in a pan and add chopped leak.
Stir for about a minute, then add the cauliflower and garlic, stirring for a minute but don't let them brown.
Add the stock, bring to a boil, then reduce to simmer until the cauliflower is soft, approx 15 minutes.
Using a hand blender, blend until all large chunks are gone, adding the milk slowly. Or, remove from heat, let cool then add to a standalone blender, blend on high adding the milk, then return to the stovetop.
Bring the soup back up to a high simmer, adding in the pepper.
Calories: approx. 233 per serving
Servings: 1
Serve. Enjoy.
PS. Make sure that you check out our Quick Start Guide for more recipes and meal plans to help you on the 5:2 diet. Click here for immediate access and information now.