Not only is this salad incredibly delicious, it's very low in calories, so you can eat well and know that you're not going over your calorie limit for the day.
On top of that, spinach is incredibly healthy, and eating healthy is half the battle of any diet.
So why not give this spinach salad a go on your next 5:2 fasting day?
Spinach Salad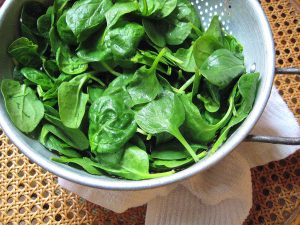 4 Cups of Baby Spinach (washed and dried) [28 Calories]
1 1/2 Plum (or Roma) Tomatoes, diced [17 Calories]
1 cup of Cucumber, diced [16 Calories]
1/2 Cup of Carrots, grated or thinly sliced [23 Calories]
1 Cup of Apples, diced [57 Calories]
Total Calories: 141 Calories
Serves 2 (or 1 really hungry person)
Dressing
You can make your own with some oil, red wine vinegar, and sugar, (search those terms online, beware of oils being very high calorie!), but a simple store-bought balsamic vinegar dressing can be used. Average of 10 Calories per tablespoon, so use only the minimum of what you need.
What have you added to salads to make this your own? Share below!