Tuna salad is an all-time favorite and a staple at diners and delis.
Although the dish that you buy is not exactly considered a healthy option (often being drowned in dressing!), the homemade version can make a perfect low-calorie lunch with plenty of flavor.
This recipe incorporates non-fat yogurt and low-fat mayonnaise to bind the ingredients while the salad and vegetables add color, flavor, and plenty of vitamins.
Serves 1 @ 163 calories
Ingredients: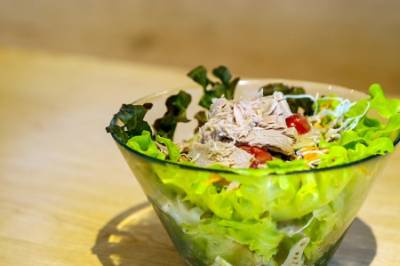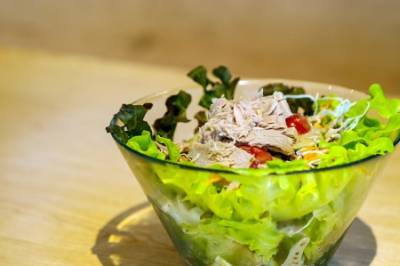 ½ can of chunky light tuna, drained (96 calories)
1 cup mixed lettuce leaves (5 calories)
1 medium stalk of celery, chopped (6 calories)
1 small carrot, shredded (21 calories)
¼ medium-sized red pepper, chopped (11 calories)
1 tablespoon of low-fat mayonnaise (15 calories)
1 tablespoon non-fat plain yogurt (8 calories)
1 teaspoon freshly squeezed lemon juice (1 calorie)
Salt and pepper to taste (0 calories)
Method:
Combine the tuna, salad leaves, carrots, red pepper, celery, mayonnaise, yogurt, and lemon juice.
Add salt and pepper to taste.
Serve with one or two slices of wholemeal or brown bread (although this will bump up the calories @ 60-70 calories extra per slice).
Calories: approx. 163
Servings: 1
Enjoy!
NB. If you need more ideas and inspiration, then make sure you check out our Quick Start Guide to help you on your 5:2 fasting diet. Click here for more information.