When it comes to eating healthy, it is important to choose your snacks wisely.
Fruits, nuts and non-fat yogurt are among the most popular snacking options and we have combined all three to present to you; a snack that looks just as great as it feels.
Whether you are on your 5 2 fasting day or not, why not give this Berry and Papaya Parfait recipe a try?
Serves 6 @ 194 calories each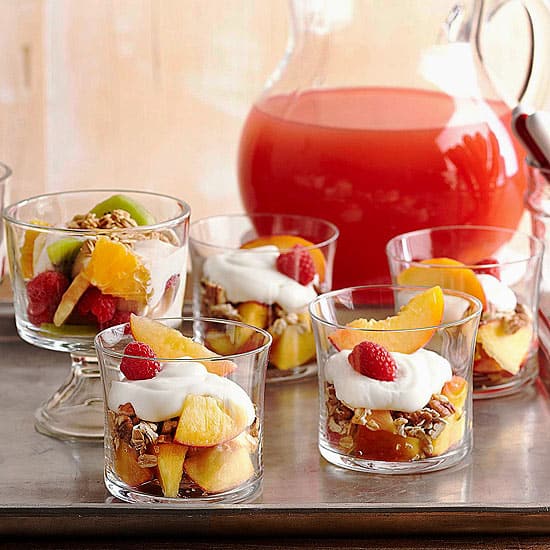 Ingredients:
1 small papaya, halved lengthwise, seeded and peeled (67 calories)
6 oz / 170g of fresh blackberries (73 calories)
6 oz / 170g of fresh raspberries (90 calories)
3 containers (1 container = 6 oz / 170g) of non-fat plain Greek yogurt (300 calories)
½ cup of granola (299 calories)
5 tablespoons of honey (320 calories)
1 tablespoon fresh ginger juice (9 calories)
1 tablespoon lemon juice (4 calories)
1 ½ teaspoons lemon zest, grated (1 calorie)
¼ chopped mint leaves (add a few sprigs for the garnish) (0 calories)
Method:
Combine the yogurt, half of the honey and the lemon zest in a small bowl. Set aside.
Drop the ginger juice into a separate bowl and add the remaining honey and lemon juice. Mix until combined well.
Cut the papaya into ½ inch cubes and add to the bowl of ginger juice along with the raspberries and blackberries.
Gently toss the fruits until well coated with the mixture.
Choose tall 8-ounce glasses to serve the parfait.
Divide half of the fruit mixture among 6 glasses and sprinkle the chopped mint on top of the fruit mix layer.
Next, spread half of the yogurt mixture and half of the granola on top of the fruit layer in each glass.
Add another layer of fruit, yogurt, and granola and garnish with small sprigs of mint.
Calories: approx. 194 per serving
Servings: 6
Enjoy!
Have a look at our Quick Start Guide for more recipes, tips, and advice for when you are on the 5:2 diet. Click here for more information.