During festive season people often find it difficult sticking to their weight loss goals. If you have ever followed other diets you would know those rigid diet routines or banishing certain food groups makes it near impossible to really enjoy this time of year so you often give up altogether.
But eating the 5:2 way is different you can still focus on on your goals whilst not feeling deprived that you are missing out on Christmas and all it has to offer.
One of the best things about Christmas is all the social engagements, taking time out to catch up with friends and family and by following the 5.2 fasting diet plan you can still do this.
Below are 3 delicious Christmas treat recipes that you can enjoy now right up to the new year.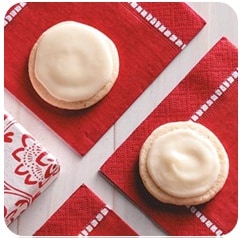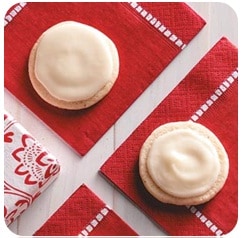 Frosted Eggnog Cookies Recipe
Ingredients:
½ cup butter, softened (815 calories)
1 cup sugar (720 calories)
½ cup eggnog (180 calories)
2¾ cups all-purpose flour (1100 calories)
½ teaspoon baking soda (0 calories)
1/3 teaspoon ground nutmeg (4 calories)
Icing:
2 Tbsp cup butter, softened (204 calories)
1½ cups confectioners' sugar (720 calories)
3 Tbsp eggnog (42 calories)
Preparation:
Using a large bowl, cream the butter and sugar together until light and fluffy. Then beat in eggnog.
In a separate bowl combine dry ingredients (flour, nutmeg and baking soda).
Add slowly the dry ingredients to the creamed mixture and mix well.
Take the dough mixture and form into 3 large 8-inch /20 cm rolls (about 5cm / 2-inch diameter), and wrap each log in plastic wrap. Refrigerate overnight to allow the mixture to firm up.
Preheat oven to 375°F / 190°C.
Unwrap the log and cut into 0.4 inch or 1cm slices. Place the cookies about finger spaces apart on ungreased baking sheets.
Bake for 8-10 minutes in the oven or until set.
Remove to wire racks to cool.
Icing:
In a large bowl, beat butter until fluffy.
Add confectioners' sugar and eggnog; beat until smooth.
Decorate cookies with frosting
Store in an airtight container.
To Make Ahead: Dough can be made 2 days in advance. Iced cookies can be stored for about 1 week in an airtight container.
Calories: 1 cookie equals approx. 60 calories
Makes: 60 cookies approx
Chocolate Rum Balls
Ingredients:
½ cup pecans, chopped (374 calories)
1/3 cup unsweetened dried shredded coconut (172 calories)
½ cup sugar substitute like Splenda, xylitol or stevia (granulated form) (0 calories)
1 tablespoon unsweetened cocoa powder (15 calories)
1½ tablespoons butter (153 calories)
1 tablespoon rum (or rum extract) (0 calories)
1 teaspoon egg white powder (17 calories)
1 tablespoon warm water (to dissolve egg white powder) (0 calories)
Preparation:
Preheat the oven to 180°C / 350°F.
Spread the pecans on a baking sheet and roast in the oven for about 10 minutes, or until they begin to brown. Allow them to cool.
In a large bowl combine coconut, sugar substitute and cocoa.
Take pecans once they have cooled for a few minutes and coarsely chop in a food processor or smash using a rolling pin and ziplock bag.
Add the pecans to the coconut mixture.
Melt the butter and then mix in the rum.
Take the butter mixture and stir into the coconut ingredients.
Place egg white powder in a small bowl and add the warm water, whisking until the power dissolves and is frothy.
Mix the egg whites into the combined ingredients.
Once the mixture comes together and forms a large dough, then pinch off small amounts and form into little balls (about 3cm / 1-inch diameter) **
Leave the rum balls on a baking sheet for about an hour to dry.
Store in an airtight container.
Calories: approx. 30 per ball
Makes: approx 25-30 balls
** Tip: If you would like to jazz up the balls you can roll them in sprinkles, coconut or crushed nuts. Do so after step 10 and before you leave them to set.
Adding this decoration will add a few extra calories into sprinkles or dust icing sugar or extra coconut.
Gingerbread Cookies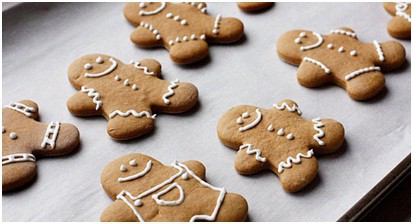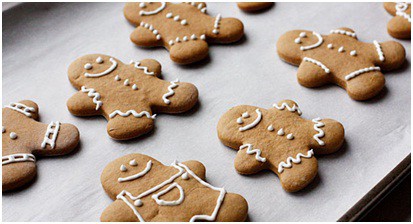 Ingredients:
3 tbsp unsalted butter, softened (300 calories)
¾ cup firmly packed brown sugar (620 calories)
½ cup unsweetened applesauce (50 calories)
1 egg (125 calories)
1/3 cup dark molasses (317 calories)
3 cups plain flour plus more for dusting (1335 calories)
1 tsp baking soda (0 calories)
2 tsp ground ginger (12 calories)
1 tsp ground cinnamon (6 calories)
½ tsp allspice (3 calories)
¼ tsp ground cloves (1 calorie)
For the icing:
1½ tbsp egg whites (12 calories)
¼ tsp fresh lemon juice (0 calories)
1 cup icing sugar (512 calories)
pinch of cream of tartar (3 calories)
Preparation:
For the cookies:
Using a large mixing bowl, beat the butter, sugar, and applesauce together until smooth. Then add the egg and molasses, mixing well and set aside
In another large bowl, combine dry ingredients; the flour, baking soda, and spices. Then add the dry ingredients to butter and sugar mixture.
Mix well ensuring all dry ingredients are combined with butter
Divide the dough into two flat balls; cover with plastic wrap and chill in the refrigerator for at least 2 hours.
Preheat oven to 350°F or 180°c
To roll out the cookies begin by dusting your work area with a generous amount of flour.
Take one ball of dough and work with that whilst leaving the other ball in the fridge to keep it firm. You do not want to work with a sticky mixture.
Using a dusted rolling pin roll the dough out to ¼ or 1/8-inch thickness then using your gingerbread man cutter(or other cookie shapes) press out shapes into the dough.
Place cookies 1 or 2 inches apart on a slip mat or lined baking sheet. Bake 10-12 minutes.
For the icing:
Once the cookies have cooled mix the egg whites with lemon juice. Then add to the icing sugar, mixing well.
If the icing is too watery, add more sugar, if it's too thick add a drop or two of lemon juice to ensure you get the consistency right.
Decorate using a piping bag (mix makes about 48 cookies depending on the size of your cookies).
Calories: approx. 69 calories per cookie
Makes: approx. 48
You can make these treats and have them on hand when someone drops in unannounced or you can indulge in these with a hot drink such as a Spiced Chai or Hot Chocolate (which can be found in the recipe book) any night of the week.
So whip up a batch of cookies or these yummy rum balls and still enjoy Christmas without all the calories (and the extra guilt).