One of the biggest risk factors for developing diabetes is being overweight, that is why losing weight with a healthy eating plan is so important.
Type Two Diabetes is a lifestyle disease. What that means is developing type two diabetes occurs due to:
a poor diet

not enough exercise

not looking after your health.
So for this very reason developing type two diabetes is also preventable.
Knowing that diabetes is preventable is a good thing!
With a few tweaks to your everyday diet, you can ensure that you do not develop this disease. But if you already have it you know that you can get on top of it and manage it.
Intermittent Fasting and Eating a Healthy Diet Plan
The 5:2 diet can help you lose those few extra pounds that will prevent you from developing this all too common disease or if you are already a diabetic taking medication can help you get on track and with a healthy diet, exercise and education can help you move to getting off medication altogether.
Managing diabetes does not mean depriving yourself of the food you love. It does not mean that you must stop having your treats entirely but it does mean eating a tasty, nutritious and balanced diet.
Losing weight and eating healthy low-calorie meals according to studies can help lower blood sugar as well as your cholesterol level and blood pressure.
It's not too late to make positive changes to your health…. and there is no time like today to start making.
You can choose easy dinner recipes that are nutritious, low in sugar, low in fat, and low in calories too!
Why not start with this easy dinner recipe; Rosemary and Orange Pork Chops.
Tasty Barbecued Rosemary and Orange Pork Chops: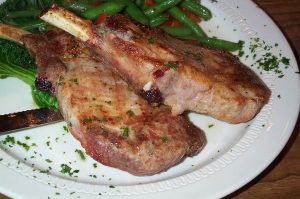 Ingredients:
250 grams boneless pork loin chops, cut 1 inch thick (331 cals)
2 teaspoons dried rosemary, crushed (7 cals)
4 teaspoons finely shredded orange peel (9 cals)
1 cup orange juice (117 cals)
2 tablespoon olive oil (240 cals)
4 tablespoons Worcestershire-style marinade / Sauce (depending on what your local store stocks) (54 cals)
1/4 teaspoon ground black pepper (1 cal)
2 tablespoon light molasses or maple syrup or golden syrup (140 cals)
Fresh rosemary sprigs (1 cal)
Directions:
Remove fat from pork chops and put aside until you make the marinade. put the pork chops in a large plastic bag set in a dish.

For marinade: In a small bowl, add dried rosemary, orange peel, Worcestershire sauce/ marinade, orange juice, molasses, olive oil, and pepper.

Take a large zip lock bag and add the pork chops and then pour the marinade into the bag. Seal the bag and turn to coat the pork chops. Toss around in the bag and massage the pork for a minute. Place the chops in the refrigerator for at least 4 and ideally up to 24 hours (Remember to turn the bag over and massage occasionally)

Set bbq grill to medium

Place chops on the grill rack over drip pan. Cover and grill for 20 to 24 minutes or until the pork is slightly pink in the center, brushing once with marinade halfway through grilling. Discard any remaining marinade. Garnish with rosemary sprigs if desired.
(NB: if your BBQ does not have lid to cover and grill then you will need to adjust your cooking time)
Makes: 4 servings
Calories per serving: approx. 225 calories (sides are extra)
Perfect served with a green salad or steamed greens.
So whether it's an easy dinner recipe, a diabetic friendly meal or low-calorie meals you need for you and your family, dinner time can be a fun and tasty time for all even when following the fasting diet plan.