I was recently asked a question about vegetarian meal plan options for those doing the 5:2 fasting diet challenge, so I thought I would share this here for other vegetarians looking for a plan to follow.
(For more ideas and inspiration on meals and meal plans, make sure that you check out this page… Low Calorie 5.2 Fasting Diet Recipes)
As a vegetarian doing the fasting challenge should be easy for you. The reason being is when fasting you typically eat meals that have a higher concentration of salads, vegetables, fruits, soups and smaller amounts of protein and carbs.
So below is an idea of what I eat on fasting days. Pretty well all my fasting days are vegetarian and I find many meals can be interchangeable between lunch, dinner, breakfasts and snacks.
Typical Fasting Day Vegetarian Meal Plan
Breakfast: I typically eat fruit, such as strawberries, grapes, rockmelon (cantaloupe) or watermelon; all these fruits have a low-calorie count.
I also love my Chia seed pudding or Berry Panna Cotta with berries on the side. I actually often eat this on the other days of the week too; I just add more nuts and seeds to it.
If I have a little more time in the morning I will do cooked mushrooms, asparagus tossed with garlic and chili and then 2 poached eggs or an omelet or make a green smoothie (all veggies and herbs).
Lunch/Dinner: is usually a salad, soup, stew, curry or veggie burger.
Snacks: include fruit, a few almonds, or veggie sticks with dips like hummus, which is at approx. 50 calories.
Go-to Meals/Ingredients
Chickpeas and lentils are my staples. A Chickpea salad with mixed greens and the color of the rainbow – veggies like capsicum (peppers), cucumber, celery, sprouts and grape tomatoes.
Other times I make up a batch up of Lentil soup/stew/curries and have a small bowl of this (I make it really chunky with loads of added veggies like zucchini, cauliflower, carrot, broccoli, celery, and beans). I flavor it with spices like paprika, garlic, ginger or cumin or use a spoon of curry paste.
I love Asian flavors so I often have veggie stir-frys with firm Tofu, instead of putting lots of condiments in the sauce I soak the Tofu in some soya sauce with Mirin for about 10 mins then add that to the stir-fry. I add lots of herbs and spices to add the flavor rather than calorie-laden sauces. I love coriander, Thai basil, chili, garlic, ginger. I get my protein here with the tofu and mushrooms – A squeeze of lime before serving just brings it to life.
And of course there is another favorite for any time of year; Chickpea or Lentil burgers. These are great as I can pre-make these and have them in the freezer ready to go at any time.
Here is a recipe that makes about 6 – 8 burger patties and is only approx. 150 calories per serve.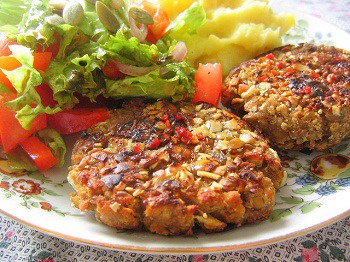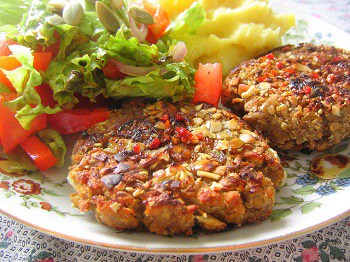 Chickpea, Pumpkin and Zucchini Burgers
Ingredients:
500g / 18oz butternut peeled pumpkin, grated or finely diced (235 calories)
1 x 400g / 14oz can chickpeas, rinsed, drained (400 calories)
1 large green zucchini, coarsely grated and squeezed dry (110 calories)
1 small red onion, finely diced or grated (6 calories)
1 egg, lightly whisked (125 calories)
2 tbsps of corn flour (53 calories)
1½ teaspoons sweet paprika (12 calories)
1 teaspoon ground cumin (8 calories)
1 clove of garlic (5 calories)
1 small chili deseeded (18 calories)
Salt & freshly ground black pepper (0 calories)
Small bunch about the size of your palm or herbs you have like coriander, parsley chives or a combination (10 calories)
1 tablespoon olive oil (120 calories)
Preparation:
Grate zucchini and squeeze out excess liquid.
Finely dice or grate the small onion.
Finely chop garlic and chili. Roughly chop herbs.
Pulse drained chickpeas in food processor until coarsely chopped.
Add zucchini, onion, pumpkin, cornflour, egg, herbs, spices and seasoning to chickpeas and pulse in food processor until it all comes together.
Form into patties.
Place in the fridge to chill for at least 30 mins – 1 hr; this is so they best hold their shape when cooking.
Lightly spray cast iron fry pan. Cook for 6-8 mins and then turn over and cook for another 6-8 mins.
Tip: Do not put too many burgers into the pan, otherwise it may be difficult to turn them over without breaking.
Serve with a side salad of mixed greens.
Calories: Total calories = 1102. The equals approx 138-184 calories per serving
Servings: 6-8
Combine this with a small green side salad, and you have a tasty healthy vegetarian option for lunch or dinner.
So as you can see, being vegetarian on the 5:2 diet plan isn't that difficult. Combine this with some of out other breakfast, lunch, dinner and snack ideas and you can easily come up with a 500 calorie vegetarian meal plan that is healthy and tasty.
And men can have an additional 100 calories on top of this.
I hope this helps you with a suggested vegetarian meal plan.
Sarah
PS. Make sure that you check out this resource for more 5:2 fasting diet meal ideas.