Healthy Breakfast options often involve Eggs. And there is a good reason for that. Eggs are considered one of the most complete foods around. Eggs are packed full of protein, vitamins, minerals and free of carbohydrates. They are really a great choice whether you are looking for a low-calorie breakfast meal, or meal for any time of the day.
Eggs and green vegetables provide nutrients that can help reduce the risk of disease, they promote a greater feeling of overall well-being, and with no sugars or carbohydrates, it's also a perfect meal to add to a diabetic meal plan.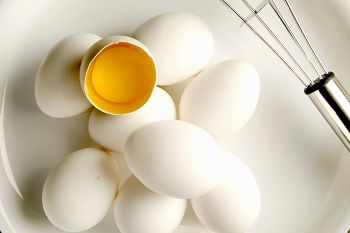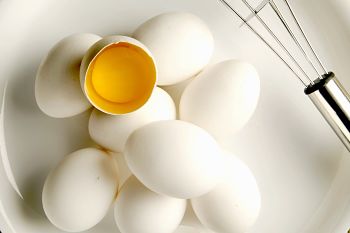 Asparagus and Spinach are nutrient-packed vegetables; both the Asparagus and Spinach contain fiber that helps promote good digestion. These vegetables help keep your blood sugar levels stable and reduce the risk of colon cancer and constipation.
In addition, these high-nutrient vegetables contain potassium that helps regulate blood pressure and plays an important role in muscle contraction and building. These vegetables are also high in Vitamins A and C which are beneficial for your eyesight as well as the production of collagen, which provides elasticity to your skin and strengthens the connective tissues.
Eggs: The Perfect Low-Calorie Breakfast Option
Eggs are one of the most complete food sources, helping to promote cellular activity.
Getting a good dose of high-quality protein from eggs and lots of vitamins and minerals from vegetables such as spinach and asparagus can give you a meal that meets your daily nutrient requirement and as we have already pointed out makes a great low-calorie breakfast meal.
This egg recipe is a great choice, and not just because it is low calorie and a suitable diabetic breakfast but because it tastes great too!
Many people can be a little intimidated by poaching eggs but it is a great way to eat these little gems without having to add any additional fat like you do when you fry or scramble your eggs. So it really is one of the healthiest ways to cook an egg.
The key for a healthy low-calorie breakfast is to turn your boring poached eggs into a flavor-packed meal by adding some low-calorie veggies and herbs and spices.
You could even turn it into a complete meal by adding a slice of toast.
Below is a simple diabetic-friendly low-calorie breakfast recipe for you to try.
Poached Eggs, Asparagus, and Spinach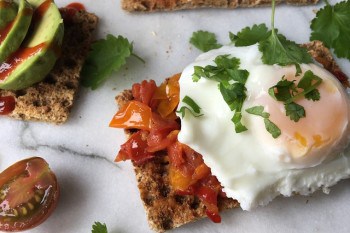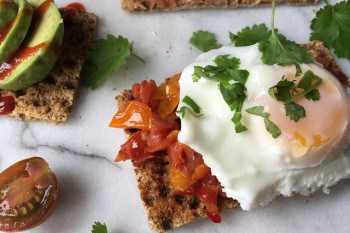 Ingredients:
1 poached egg
8 asparagus spears (medium)
1 cup raw baby spinach
1 cup of sliced button mushrooms (or similar)
spray oil
salt
pepper
chili flavor
garlic or onion flavor
a squeeze of lemon juice
fresh herbs of choice – parsley, chives, basil, thyme
Calories: Total = 148 calories per serving
Add a second poached egg for a heartier meal bringing total to 222 calories
Servings: 1
Method:
For the Asparagus and Spinach mix:
Get out the frying pan, put it on the heat and spray with a little oil.

Once the pan is hot add the mushrooms, add the garlic, chili powder/ flakes and/ or onion powder and sauté gently for 3-4 minutes. Add fresh herbs. (Be sure to save a small amount for plating up.)

Then add to asparagus spears to one half of the pan and saute for another 1 minute.
For the poached eggs:
Boil about 2 inches of water in a saucepan.

When the water has boiled, turn down the heat until the water is just below a simmer.

Using fresh eggs swirl the water, gently break the egg, dropping it quickly into the water, Poach for 4 minutes.(If eggs are not super fresh add some white vinegar to the water it will help the egg to hold the shape whilst poaching.)
To serve:
Prepare a bed of baby spinach leaves on the plate, top with 6 asparagus spears and mushroom mix

Place the poached egg on top

Add salt and pepper to taste.

Drizzle some lemon juice over the top of the bring the meal alive and sprinkle over any saved herbs and a few chili flakes

Enjoy.
So why not give this tasty, nutritious and diabetic friendly Poached Eggs low-calorie breakfast recipe a try.
Sure it makes for a great breakfast but can be a winner for lunch or dinner!
Love the versatility of eggs, check out these other great egg recipes:
Did you know we have our Healthy, Low-Calorie Fasting Friendly Recipe Book with over 140 recipes? Each and every one is suitable for fasting and embracing the 5:2 diet lifestyle.